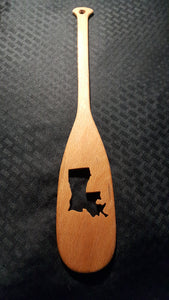 Gumbo & Jambalaya Paddle Louisiana
Señor Wood's Gumbo & Jambalaya Paddles are hand cut, sanded and embellished out of different hardwoods. Smooth to the touch and to the tongue, these paddles are soaked and sealed in food grade Mineral Oil.
These paddles are also wonderful for all your non stick cookware and are even more on a cast iron pot to make a good southern gumbo!
This paddle is shaped to get to the edges of the pan,the places where bits can stick and burn. At 16 inches long, this paddle will keep your hand safe.

Señor Wood's Gumbo & Jambalaya paddles are designed for right and left-handed chef's and is a must in the kitchen.
*PADDLES ARE MADE OF DIFFERENT HARDWOODS SO YOU WILL GET THE SAME DESIGN BUT COLOR, GRAIN AND WOOD WILL BE DIFFERENT FROM PICTURED. IF YOU WANT A CERTAIN WOOD OR LIGHT/DARK GRAIN PLEASE NOTE THAT IN ORDER AND WE  WILL DO OUR BEST TO MATCH YOUR DESIRES IF AVAILABLE *